There are times when a COBie deliverable is required and with the growing trend toward using COBie via the buildingSMART Alliance we have created a short guide to how to use our excel export settings to meet these needs. There are several levels to COBie compliance and in the example below we are using the Example provided by NIBS.
1. Excel Export:
Administration→ Configure Excel Export
New Export
Name COBie
Shared for multi user access
Select template
Save
2. Name Sheets by Selecting the New within the"Sheet" tab. Ensure that the naming convention of each sheet is consistent with CoBie Standards. By default, the starting row is 1. Switch the starting row for each sheet to 2. Save Each Sheet.
Instruction
Contact
Facility
Floor
Space
Zone
Type
Component
System
Assembly
Spare
Resource
Job
Impact
Document
Attribute
Coordinate
Connection
Issues
PickLists
3. Assign Data Sources to the following Sheets.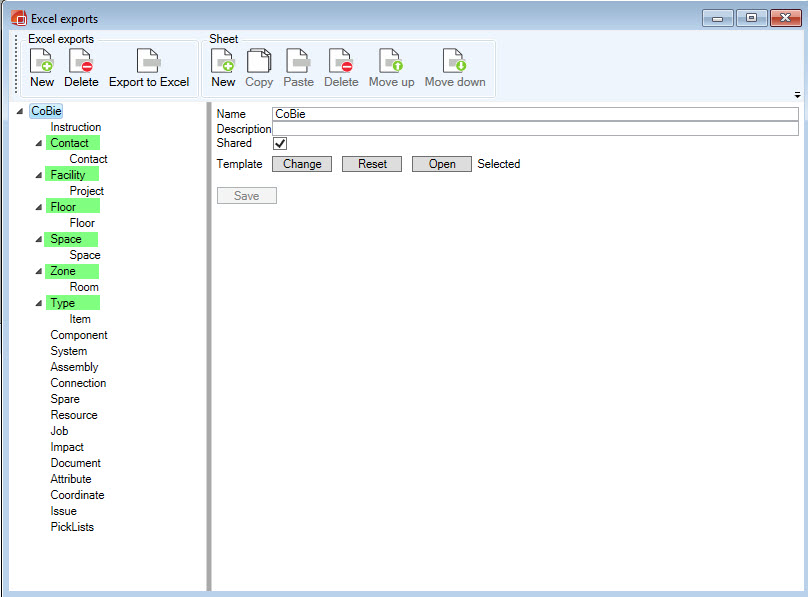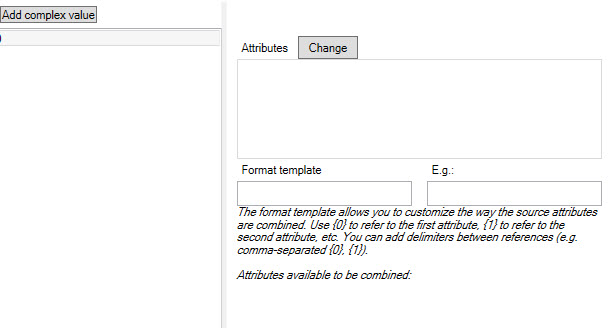 Contact

Target Type: User
Name: Contact
Attributes:


Add: General: Email
Add fixed value: dRofus_admin
Add fixed value: n/a
Add fixed value: Planner
Add fixed value: n/a
Add fixed value: n/a
Add fixed value: dRofus

Save

Facility

Target Type: Project
Name: Project
Attributes:

Add: General: Name

Save

Floor

Target Type: Group
Name: Floor
Attributes:

Add: General: Name
Add: Created by: Created by: Email
Add: Group Type: Group Type: Created
Add: General: Reference
Add fixed value: dRofus
Add fixed value: ifcBuildingStorey
Add fixed value: n/a
Add: General: Description
Add fixed value: n/a
Add fixed value: n/a

Save

Space

Target Type: Room
Name: Space
Attributes:

Add: Room: Room Function #
Add: Created by: Created by: Email
Add fixed value: n/a
Add: Level: Level: Name **
Add Complex value: Room Name, Room Name Description

Format Template: {0} {1}

E.g: Room Name Room Name Description

Add fixed value: dRofus
Add fixed value: IfcSpace
Add fixed value: n/a
Add: Room: Name on Drawing
Add: Room: Prog. Area
Add: Room: Designed Area
Add: Room: Ceiling Height

Save

Zone

Target Type: Room
Name: Room
Attributes:

Add Complex Value: Room Function: Number, Room Function: Name

Format Template: {0} {1}
E.g: Room function: Number Room function: Name

Add fixed value: dRofus_admin
Add fixed value: n/a
Add fixed value: Occupancy Zone
Add: Room: Room Function #:
Add fixed value: dRofus
Add fixed value: n/a
Add fixed value: n/a
Add: Room: Room Name

Save

Type:

Target Type: Item
Name: Item
Attributes:

Add: General: Item Number

Add Fixed Value: ( leave blank)
Add: Log History: Created
Add: General: Name
Add: Categorization: Sub Set (Name)
Add: Specification - Description (Flag) - Asset Type (Group) - Fixed/Movable (Element) - (Radio buttons/ combo box)*
Add fixed value: n/a
Add fixed value: n/a
Add fixed value: n/a
Add fixed value: n/a
Add fixed value: n/a
Add fixed value: n/a
Add fixed value: n/a
Add fixed value: dRofus
Add fixed value: n/a
Add fixed value: n/a
Add: General: Budget Price
Add fixed value: n/a
Add fixed value: n/a
Add fixed value: n/a
Add: General: Item Number
Add: Specification-Building I (Flag): Max dimensions and weight (Group) - With/length (Element) - inch (Numeric Field) *
Add: Specification-Building I: Max dimensions and weight - Depth (Element) - inch (Numeric Field) *
Add: Specification-Building I : Max dimensions and weight - Height (Element) - inch (Numeric Field) *

Save
*Attribute Added to Item Specification GUI
** Added type to Groups
This page references https://www.nibs.org/?page=bsa_commonbimfiles