Import and synchronize Occurrences
When Items are established and linked between dRofus and IFC, Occurrences can be import and synchronize.
Before importing and synchronize occurrences we recommend reading: The use of IFC Guid's in the Occurrence configuration
To import or synchronize occurrences:
1. Select Item(s) that you want to synchronize
Go to BIM → Occurrences → Synchronize with model.

This will open a new window ;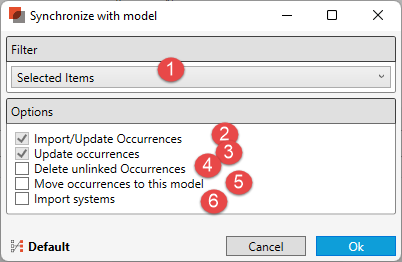 Use filter if you want to synchronize occurrences for selected Items or all linked Items in dRofus

Import/Update Occurrences. This option cannot be turned off.

Update occurrences. This option cannot be turned off.

Delete unlinked Occurrences. Deletes occurrences in dRofus that do not have a matching instance in the IFC - according to the Occurrence → IFC Occurrences configuration.

Move occurrences to this model.

Import systems. Imports systems and system memberships for Occurrences.
When starting the sync operation you will first be presented with a preview of how many occurrences will be creates and deleted (if Delete unlinked Occurrences is selected). Before you proceed with the actual sync you can cancel the sync if needed.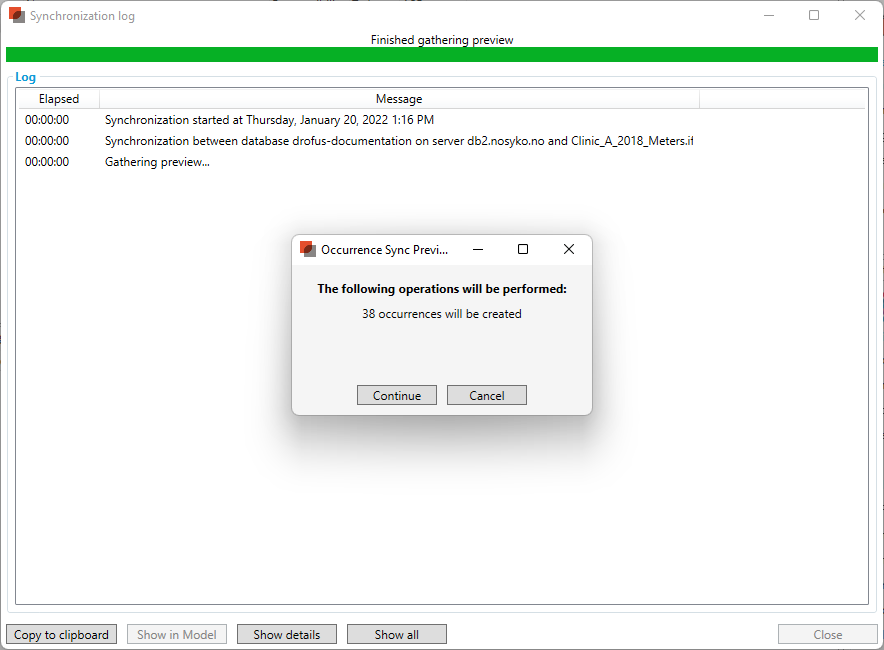 In the above image you can see that 38 occurrences will be created in dRofus. The result in the Occurrences pane looks like this;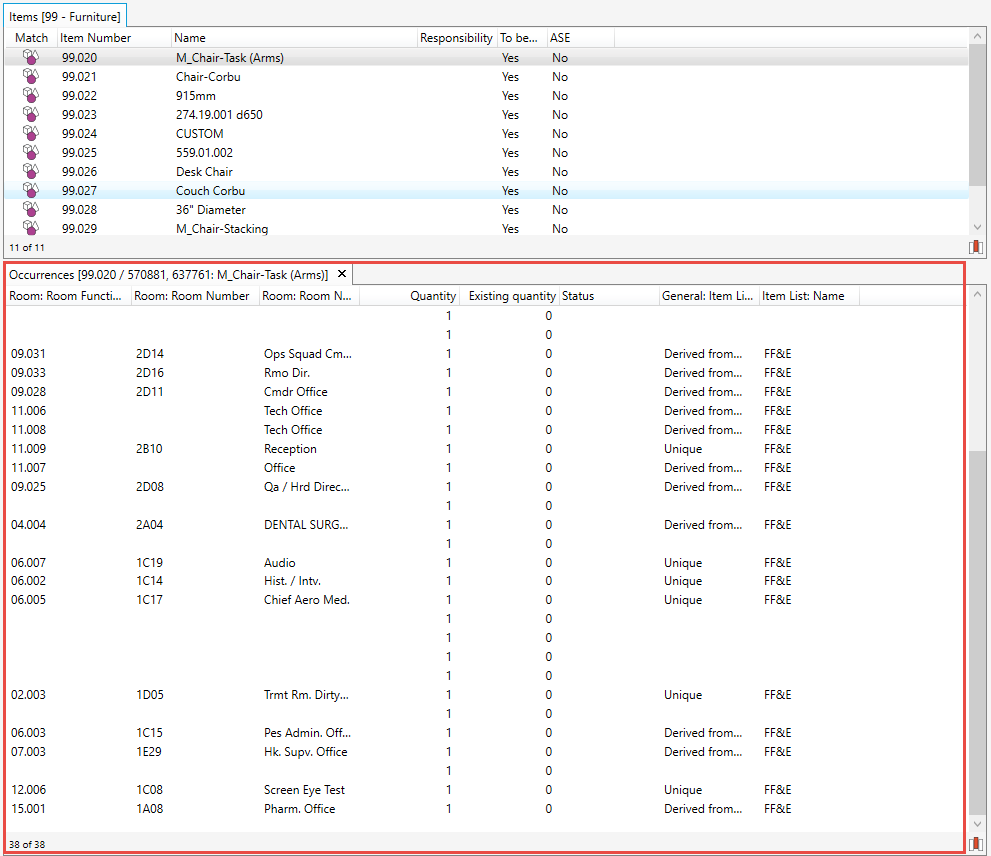 The synchronization have now been conducted according to the synchronization options made and the active Occurrence <-> IFC Occurrence attribute configuration.
If the IFC model contains IFC spaces that are linked with the rooms in dRofus, according to the Room <-> IFC Room configuration, the sync operation will place the occurrences in the linked rooms Items list. In the image above you can see in the first column that some of the imported occurrences have been assigned a room relation. There are some prerequisites in the IFC model for connecting occurrences to rooms to work.
Rules for connecting occurrences from IFC to room equipment lists in dRofus:
The IFC model used for importing / syncing occurrences must contain IFCSpaces that are linked with the rooms in dRofus

The Objects in the IFC file must have a relation to the IFC Space, not only e.g. IFC Story or IFC Building

The equipment list for the room must have following statuses in order to connect the occurrence to the room equipment list;

Not created

Unique

Derived
Rooms with equipment lists coming from a room template or equipment template will not be updated from IFC. The occurrences will need to be connected manually after import.