Move Items Occurrence to Another Room
Move Items Occurrence to Another Room
As with an agreement, you can change the placement for an occurrence
Right click on the Occurrence

Select "Modify Room placement"

Select the new Room

Select "Ok"

Select "Yes" if you are sure.
And the Occurrence has been moved.
Create an additional order
Create an additional order by: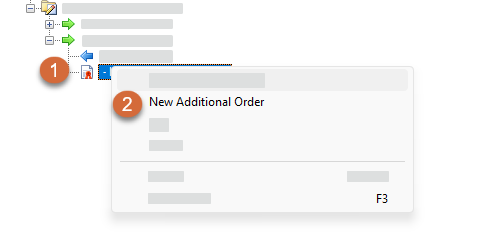 Right clicking on an order

Select "New additional order".
The only difference between the option under an order and an additional order, is under the Items/occurrences tab. In the additional order you can create new occurrences instead of transferring occurrences from the agreement.
Add Occurrences to the additional Order
Select the "Items/Occurrences" Tab

Right Click on the Item you would like to add Occurrence and select "New Occurrence"

Click on "Select Room"

Select Room

Select "Ok

Select Item either by selecting:

"New Offered Item"

"Select Offered Item"

Enter "Quantity"

Select "Ok"
New Occurrence has been created