Interface Delivery module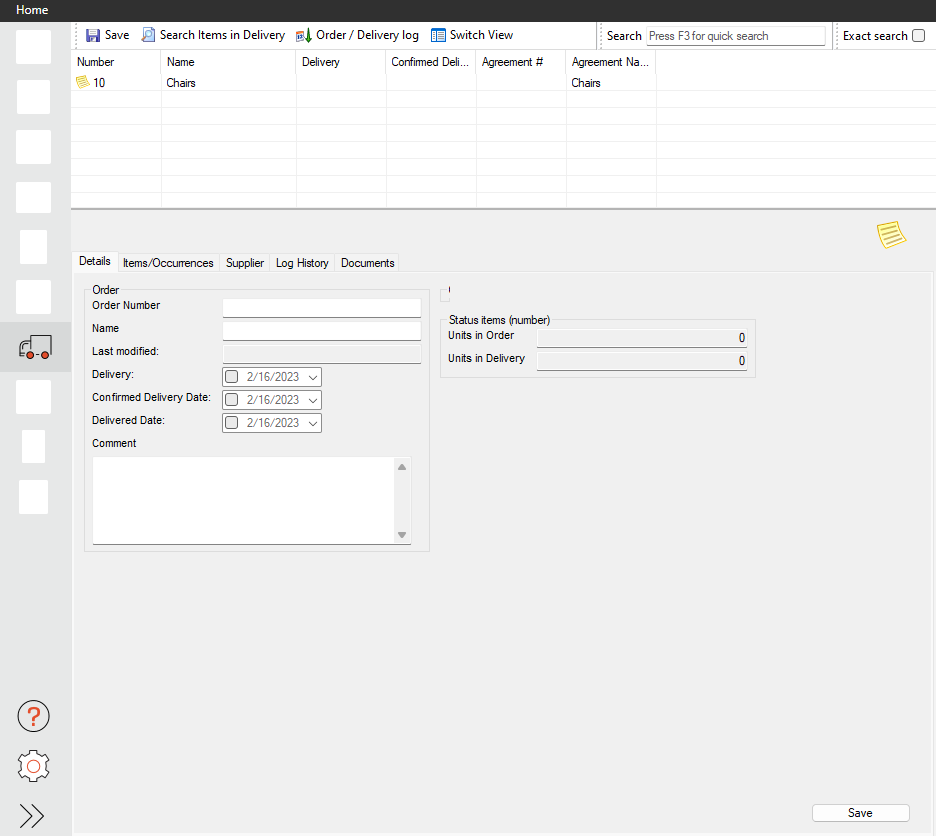 1.List of Orders
Displays all orders which have been locked in the Procurement module. Create new order
Edit layout
Switch view:
The list of orders can be configured to be displayed either
On the left-hand side

Above the details.
"Swith view" to change view.
Display order
Orders can be displayed as:
Detailed list

Large or small icons
Right click the list to display these options.
2. Searches

2.1 Search Items in Delivery
The delivery module has its own search function which search for Occurrences/individuals in delivery, based on specified criteria. This function can be used to produce residual lists by searching for
equipment with a specific status

lists of occurrences/individuals for follow-up within a specific period of time

lists of equipment from specific suppliers etc.
2.2 Search through orders
This option will search through all the orders which contain parts of your search word. Your search can include
Order number

Order name

Agreement number

Agreement name

Supplier.
If you select exact search, the program will only search for exactly what you enter in the search field.
3. Order information
You are able to display information about the order:
Details Tab: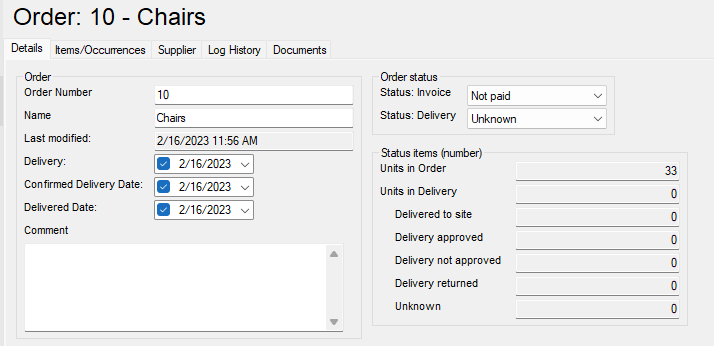 General order and delivery information.

Delivery and order status: The status for an order is defined by the project. Read more: Setup for the Delivery Module

Item occurrences status: The first line displays how many occurrences/individuals there are in total for the order. The next line shows how many of them have registered a delivery status. The following lines show the different statuses and the quantity for each of these. The statuses for the entire order have no direct link with the statuses for the occurrences of the items. The status can be updated under the "Item/Occurrences" tab. The status for an Item is defined by the project. Read more: Setup for the Delivery Module
Items/Occurrences:
Displays overview of quantity and status for Items and Occurrences/ individuals. If individuals have been generated for an occurrence, these are displayed and not the occurrence.

Set status for the Items and the Occurrences. Item status is defined by the project. Read more: Setup for the Delivery Module
Generate indiviuales

Print label

Add sub-component

Remove from the delivery module

Display log for occurrences
Supplier
Information about the supplier
Log History
Display the last 30 changes that have been done
Documents
Add, view or delete documens.
Project specific tabs
An admin user are able to add extra tabs and fields where you can register more information on an order.
4. Order/ Delivery log

Option the view log for all orders