Use Sub items as properties for Doors
Use Sub items as properties for Doors
Sub items as properties are an alternative way to connect items with sub items. This can be used to simplify equipment planning for different types of equipment. However, the concept comes into its right element when we approach more advanced Items with various parts and stakeholders, such as doors.
Doors are a complex Items in the sense that it is usually more stakeholders and disciplines who will define requirements, geometry various parts, locking devices, automation etc. In this example, we'll explain how we can handle all door components using subs as properties for a door-item.
In the image below we have created some item groups for different components in a door system;
Here we have collected both door types and various components in main group 08 - Doors. This is only one example of organization of door items, the projects are of course free to choose a different grouping. We have created some items for doors, where, for example. 0801.002 - Single Flush Aluminum 800mm has been allocated a sub item 0802.002 – Aluminum Frame Type 1. The sub item can have sub items on its own with all items that the Aluminum Frame Type 1 consists of. What we now want to achieve is to create all door components as properties on the door item.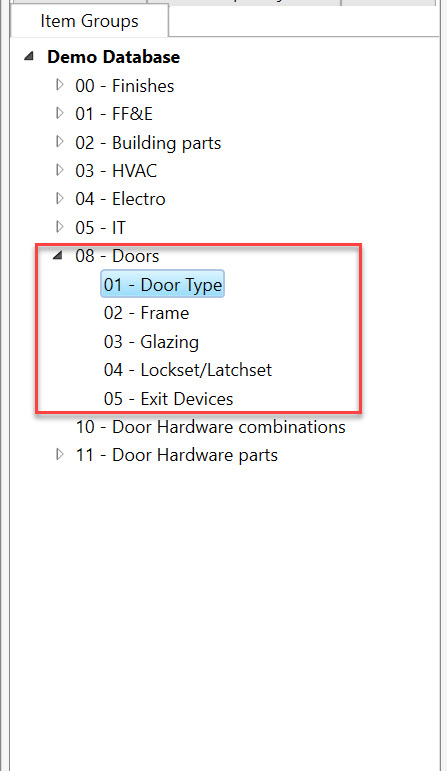 Again we start in Administration-> Settings where we need to create the properties we want to have as drop-down for the door types. In my example, I've created four categories for doors; Door Frame, Door Glazing, Lockset/Latchset and Door exit devices.
Then we repeat the process as we did in the previous example with Fabric on Furniture. This time we go to item group 0801 – Door types and attach the categories. By doing this we are saying that we want all door properties that we created in the administration setting to appear on all items (Doors) in the item group 0801 – Door types;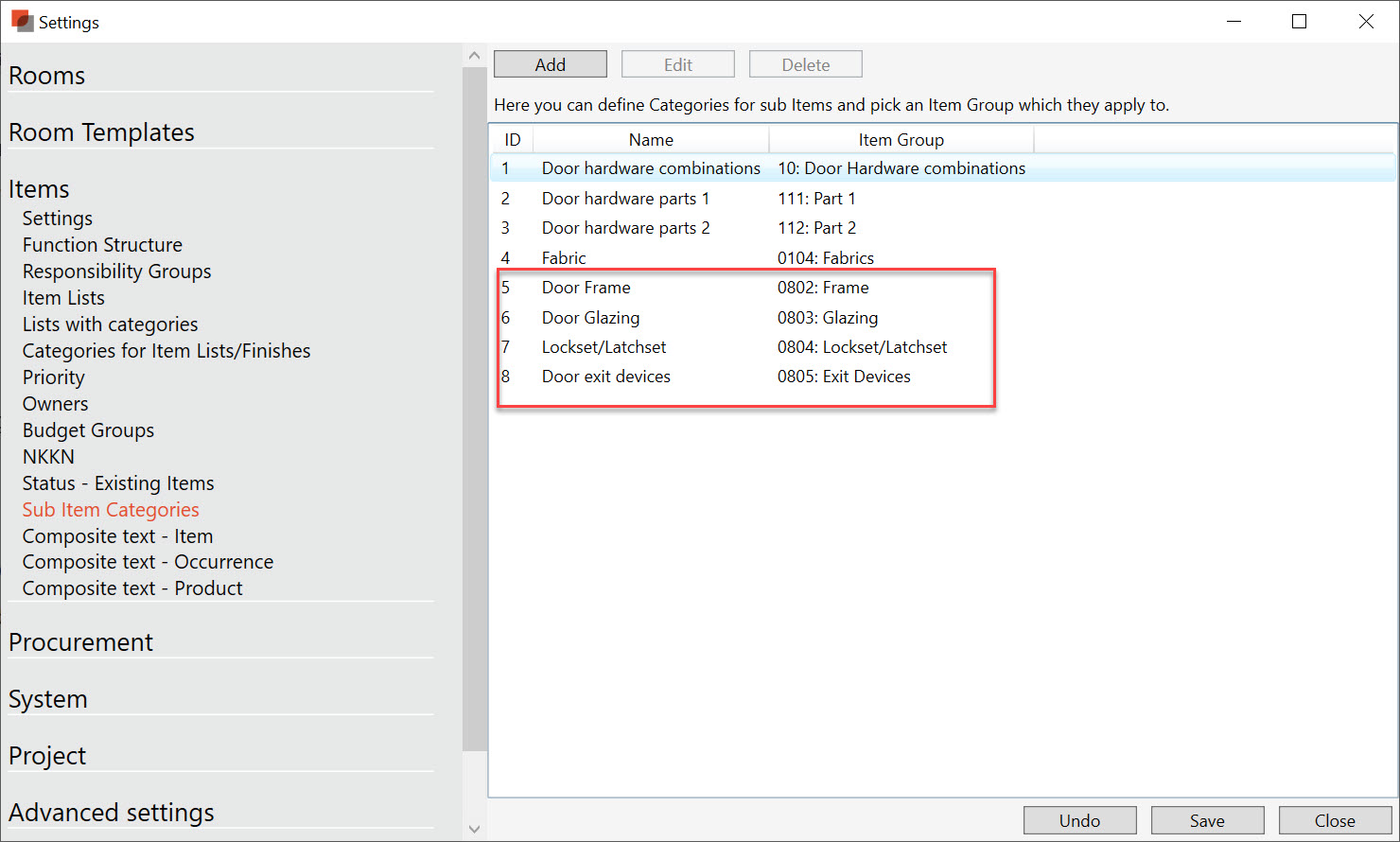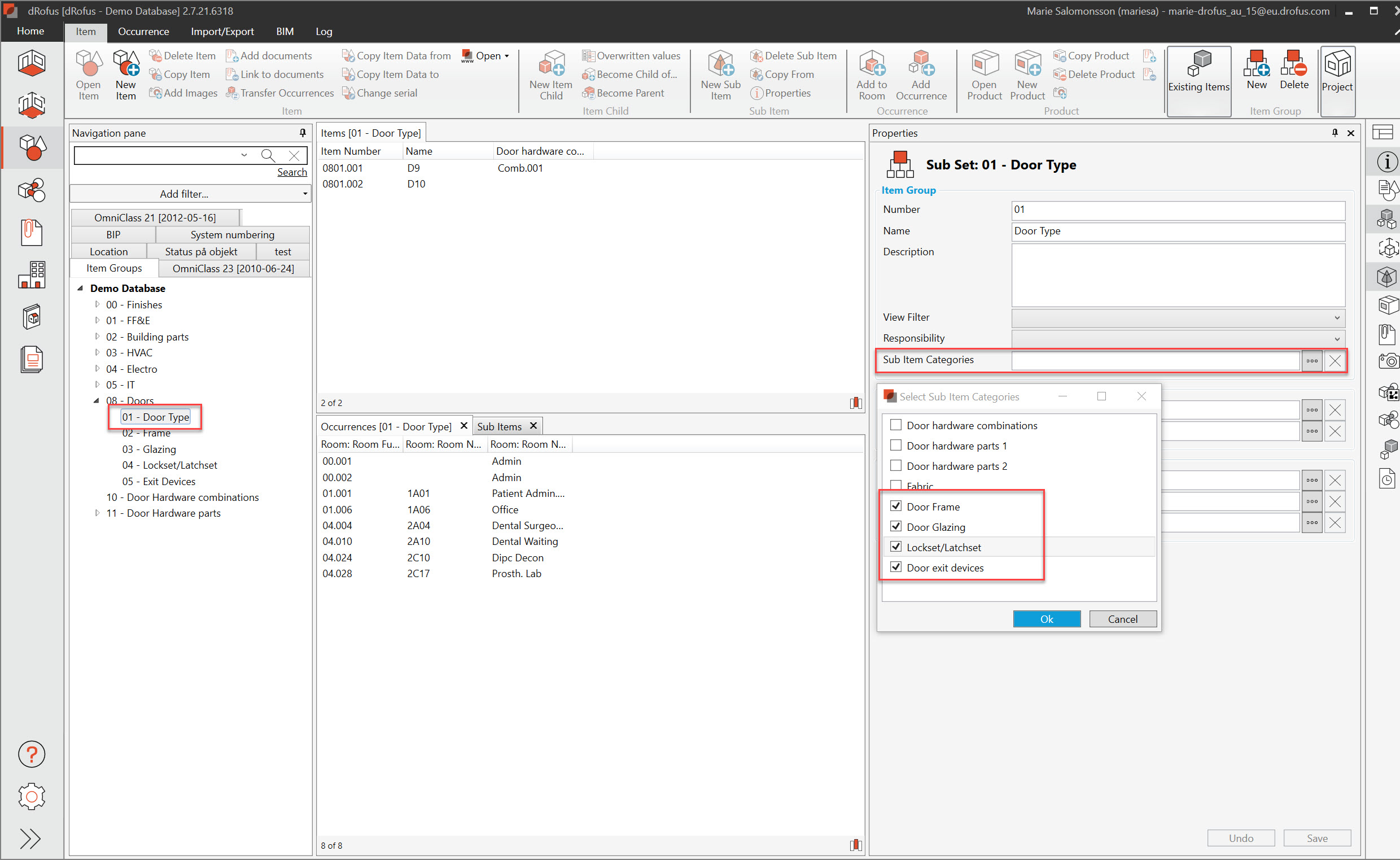 The result is that we can now select a door items from the Item pane and use the drop-down properties to attach packages of components to the doors;
For further learning of how to utilize subs as properties for doors we recommend this video: https://vimeo.com/148575649