Reports and Exports Module
Introduction
dRofus offers PDF Reports or Excel exports for print-out, storage, or distribution via email. All reports are generated in PDF, and all exports default to XLSX. On the dRofus WEB, the column view can be exported as CSV files. dRofus web includes all modern reports. Modern reports leverage JSON code and offer customization without needing third-party software.
The default Excel export can be set from the settings menus

Deprecated Reports
In old reports, in addition to PDF, XML, Flat XML, and RTF were supported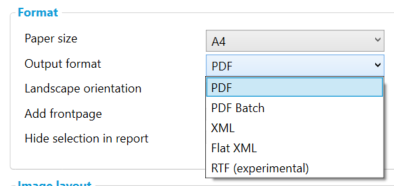 XML was used in old reports with XSL template files to render custom reports.

See Deprecated Reports to see reports replaced by more modern reports.
Generate PDF and Excel files:
1: All PDF reports and the pre-defined Excel exports are available in the "Reports and Exports" module from the left-side menu Reports and Exports Module
2: Generate Excel-file using CRL + E or select "Export to Excel" in the right-click menu within the module when a list is selected. Generate Excel-file using CRL+E
3: Using the Report and Exports option in dRofus WEB. Export Reports and Exports using dRofus web
4: Most reports are available directly in the relevant modules (e.g., the Room Data PDF report for rooms can be found in the Rooms module under Import/Export in the ribbon menu. Generate PDF by selecting the PDF report option within the Ribbon module. Available in module: Rooms, Templates for Rooms, Items, and System.
Modern reports are available from dRofus Web.
Read more:
Reports and Exports module
PDF report generation
All data in dRofus is stored on a central server. PDF reports can be generated and sent back over the Internet. It is advantageous to limit the number of reports generated if possible. The reports generated, e.g., all rooms in the project, naturally take much longer than reports for individual rooms. When you request a report, an Internet browser will automatically open, showing the status for report generation and, finally, the report itself. If this takes a long time, you can continue working with dRofus while you wait.
To navigate all the PDF reports, choose "PDF reports" under "Reports and exports" in the left-hand menu. You will see all the available PDF reports in a tree structure. Report Filters and Report setups below provide a general overview of the filters and potential for added information that can be used for these reports. Overview of Reports provides a brief overview of the different reports. Not all reports may be available for all projects, and new reports and filters are continuously developed.
Excel report (export) generation
There are two types of pre-defined Excel exports - the built-in ones and those created on a per-project basis. The choices for the built-in Excel exports are similar to those available for PDF report generation, with pre-defined filters and columns that can be used in the report.
For the per-project Excel reports, a dRofus admin can use an Excel template (for example containing a pre-defined pivot table or macro) and upload that together with a setup for which fields to extract from dRofus. This will allow users in the project who have access to the relevant fields needed to use it the same way as they would a built-in report.
In addition, any user with the right access (e.g., Rooms access for Rooms fields) can create a tailored Excel export that they can combine with an Excel template they have locally. This is available from the "Excel Projects Exports" top-level page (you will see a button to the bottom right of the window "Create Excel export" that can be used for this).
It is also possible to generate an Excel report/export from any list panel in any module by right-clicking and choosing "Export to Excel." With this choice, Excel will be generated without a pre-defined template.